Solar
The production of oxygen and food would be impossible without solar energy. Individuals all around the world are taking this source of energy more seriously as the supply of fossil fuels dwindle. With present trends in energy consumption, solar renewable energy has become a viable alternative resource. The Earth receives more energy from the sun in just one hour than the world can use in a whole year. As renewable energy develops and fossil fuel prices increase, solar energy becomes more affordable.
Titan Wire & Cable has a knowledgeable staff that can assist with the following project types:
Ground Mount
Roof Mount
Commercial
Residential
Utility Scale
OEM
Titan supports the Solar Industry with the following products:
At Titan Wire & Cable we have access to the Solar Industries main Manufacturers. Please contact us for products not listed above, we will not only investigate and locate your product, we will provide it to you at competitive pricing.
Copper Price Watch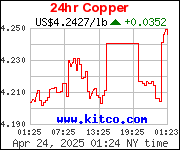 ---
Aluminum Price Watch